Installation Work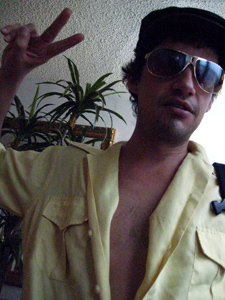 YOUR PRESENCE IS YOUR CONSENT
Part 2: 2010 – 2015
Part 1: 2004 – 2009
Portraits and Video Installations Loops by Andrew Repasky McElhinney
COMING SOON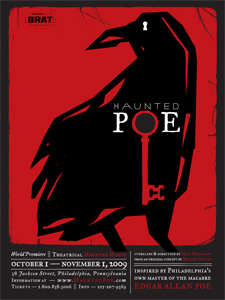 HAUNTED POE
By Brat Productions, October-November 2009
Projections and Video Installations by Andrew Repasky McElhinney
Fall 2009, Brat Production's Michael Alltop and Madi Distefano's theatrical haunted house featured a cast of thirty actors in a thirteen-room labyrinth at 38 Jackson Street, South Philadelphia. With scenarios inspired by Edgar Allan Poe's The Raven, The Black Cat, The Fall of the House of Usher, William Wilson, The Masque of the Red Death, The Cask of Amontillado, The Murders in the Rue Morgue, among others, the event featured two short videos by Andrew Repasky McElhinney, The Tell-Tale Heart and Poe's Last Train Ride, which actors would interact with for maximum "boo" effect.
DOWNLOAD THE "HAUNTED POE" PROGRAM HERE
WAILS, WOE: 'HAUNTED POE'
review by Wendy Rosenfield, The Philadelphia Inquirer, Tues Oct 13, 2009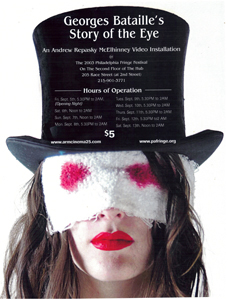 ARM UVI #1:"GEORGES BATAILLE'S STORY OF THE EYE"
Six Projector Video Installation Maze by Andrew Repasky McElhinney based on his feature film
Philadelphia Fringe and Live Arts Festival, August-September 2003
Andrew Repasky McElhinney broke his 2003 feature film, Georges Bataille's Story of the Eye into six loops and installed it in intersecting rooms. There, the assaulted spectator had to balance between watching the media and absorbing the overlapping soundtracks while watching other people in the installation watching and becoming aware of her or his own active role.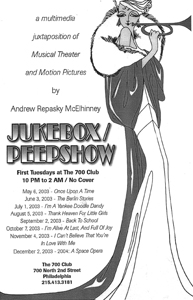 JUKEBOX/PEEPSHOW
An eight-part multimedia juxtaposition of musical theater and motion pictures by Andrew Repasky McElhinney.
Installed on the second floor of The 700 Club, North Philadelphia:
May 6, 2003 – Episode 1: "Once Upon A Time…"
June 3, 2003 – Episode 2: "The Berlin Stories"
July 1, 2003 – Episode 3: "I'm A Yankee Doodle Dandy"
August 5, 2003 – Episode 4: "Thank Heaven For Little Girls"
September 2, 2003 – Episode 5: "Back To School"
October 7, 2003 – Episode 6: "I'm Alive At Last, And Full Of Joy"
November 4, 2003 – Episode 7: "I Can't Believe That You're In Love With Me"
December 2, 2003 – Episode 8: "2004: A Space Opera"
In June 2004, JUKEBOX/PEEPSHOW traveled to The Werepad, San Francisco.